By Hannah Lee
What is the measure of a man's worth?  If it's durable accomplishments, then Maurice Sendak has left a whoppingly large body of work: author of 18 books/anthologies, illustrator of 78 books by others (if I counted correctly); set designer of more than five ballets and operas, and author of one opera.  However, if we were to include the generations of children whose memories have been indelibly influenced by Sendak, then we're heading into the stratosphere.
Our family's favorite was not Where the Wild Things Are, which won the Caldecott Medal in 1964, nor In the Night Kitchen, his 1970 book of a naked young boy playing in his family's kitchen after bedtime that has been banned in several states (including Illinois, New Jersey, Minnesota, and Texas).  In fact, our copy had a distinctively bad odor that everyone of us still recalls.  No, our favorite was Nutshell Library (Caldecott Collection) which included Alligators All Around, Chicken Soup with Rice, and Pierre. The oft-stated line by the rebellious Pierre was bandied about in our house, because "he didn't care."  Later, we were charmed by the animated televised production combining "The Nutshell Library" and "The Sign on Rosie's Door" titled, Really Rosie, featuring the singing voice of Carole King.  My sister's three boys also loved Sendak's books, identifying with "what sometimes seemed like the hidden message in his books (when so many children's books are saccharine sweet)."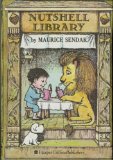 Born in Brooklyn in 1928 to Polish Jewish immigrants, Sendak grew up in a sad, grim household, shadowed by the tragedy of World War II.  In one interview with Terry Gross of NPR, Sendak recalled often dropping in on his best-friend, Carmine, who lived in the apartment across the hall, because Carmine's family featured laughter, hugs, and kisses.  And pasta!  He nurtured his love of books when confined to his bed during a childhood illness.  He'd said that he decided to become an illustrator after viewing Walt Disney's film Fantasia at the age of twelve.
In another interview with Terry Gross, he stated that he never wrote for children, but we readers knew that he understood the complexities of childhood, with its attendant fears, anxieties, and jealousies.  Toward the end of his life, he declined all invitations to school assemblies, because he was appalled that the protocols and instructions by the adults in charge — teachers and principals — had turned him into the children's enemies — "Behave or else!"  "Ask good questions!"  Sendak preferred that children come to his books on their own, asking their own "terrible" questions.
Sendak died on Tuesday morning from complications of a stroke.  His final book, Bumble-Ardy, was published in September.
http://blog.pjvoice.com/diary/2172/in-memoriam-maurice-sendak